Career Opportunities at 1031 CORP.
1031 CORP. is looking for extraordinary professionals to join our dynamic team. Headquartered in Collegeville, Pennsylvania with a Pacific Northwest presence in Bend, Oregon, 1031 CORP. is continuing to expand our footprint and make our mark as an industry leader. If you have experience in the 1031 exchange or real estate related industry and are ready to be a part of a growing organization focused on exceptional client experiences, you could be a great fit and find a welcoming atmosphere where your voice will be heard.
Explore joining the 1031 CORP. family and finally find a career you can love and grow personally and professionally.
Current positions available: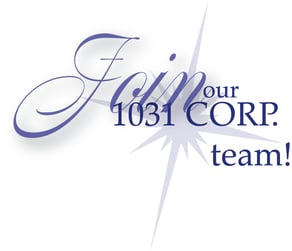 1031 CORP. offers a competitive compensation and benefits package and a supportive team environment. 1031 CORP. is an Equal Opportunity Employer (EOE). Interested candidates should email a resume to careers@1031CORP.com.