Nearly Two Decades of Board Service Recognized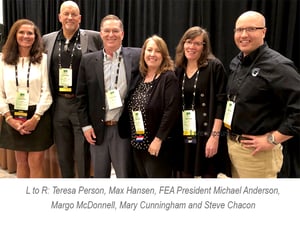 September 12, 2019, COLLEGEVILLE, PENNSYLVANIA -1031 CORP., a nationwide qualified intermediary, announced Margo McDonnell, CES®, President, was recognized for her service on the Board of Directors of the Federation of Exchange Accommodators (FEA), the national trade association for 1031 exchange practitioners and their professional advisors. Margo served on the Board of Directors from October 2011 through September 30, 2019. During this time, the membership adopted three-year board terms with a two-term limit. Margo previously served on the FEA Board of Directors from 1997 through 2008.
Margo and fellow retiring members of the FEA Board of Directors were recognized at the Annual Membership Meeting during the 2019 FEA Annual Conference in New Orleans, Louisiana. FEA President, Michael Anderson, CES® had the following to say about Margo:
"Margo McDonnell, CRE, CES®, 1031 Corp., Collegeville, PA is a longtime member of the
FEA Board and has been very busy volunteering for the association. She has been a member
of the Conference Planning Committee, Nominations Committee, Government Affairs Committee Executive Committee, Executive Committee and currently chairs the Communications & Marketing Committee. Margo has a unique background that makes her such an outstanding board member. For a time in 2008 she left the 1031 industry and went to work for Fernley and
Fernley, FEA's former management firm and was the Executive Director to FEA. She's seen
both sides of the association.

Margo is one of the most recognized names in the association, given that FEA's exclusive certification program, the Certified Exchange Specialist® Program's annual award is named
after her. And for good reason. In 2002 and 2003, she worked countless hours with the CES® Certification Council of the FEA to develop the CES® Program.The FEA is extremely grateful for
this work and the outstanding, respected certification that FEA supports.

Margo is the first person to raise her hand to volunteer; she's the last person to leave an event because she's helping; she's the voice of discernment on a board or committee call and she's a model for the passion it takes to run her company, raise her family and still have some time left to proof the newsletter. Margo served as FEA President in 2015-2016 and she's received both the CES® Perpetual Award for Outstanding Service (2008) and the first FEA President's Award (2003)."
Margo added, "I encourage other FEA members to step up and volunteer for an FEA committee or the Board of Directors. You will benefit greatly both personally and professionally and you will get out of it, much more than you put into it. Whether is a few hours a week or a few hours a month, you can make a difference to the FEA and the 1031 industry."
For more information about the FEA, visit www.1031.org.


About 1031 CORP.
Serving as a nationwide qualified intermediary for 1031 tax-deferred exchanges since 1991, 1031 CORP. strives to provide a superior exchange experience for its customers and their advisors. It provides its customers with the enhanced security of funds, knowledgeable exchange professionals and a commitment to keep the exchange process simple for their customers and advisors. For more information on 1031 CORP., please visit www.1031CORP.com.