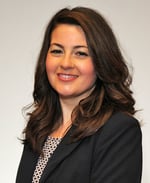 September 12, 2019, COLLEGEVILLE, PENNSYLVANIA - 1031 CORP., a nationwide qualified intermediary, has announced Marissa LoCascio, CES®, Senior Vice President and Director of Operations, has been elected to the Board of Directors of the Federation of Exchange Accommodators (FEA), the national trade association for 1031 exchange practitioners and their professional advisors. The results of the election were announced at the Annual Membership Meeting during the FEA Annual Conference in New Orleans, Louisiana.
Marissa will serve a three-year term beginning October 1, 2019. As a member of the Board of Directors, Marissa will be responsible, along with the other board members, for setting the direction and policies for the FEA and its membership. Board members are now eligible to serve two three-year terms.
Marissa served as the co-chair of the Certified Exchange Specialist® (CES®) Certification Council which oversees the voluntary and continuing education program developed by the FEA in 2003 to recognize those exchange professionals who have met the eligibility requirements and demonstrated through independent third-party testing their knowledge of Section 1031 and its practice.
"The FEA will benefit greatly from Marissa's knowledge of 1031 exchanges but, more importantly, her leadership role at 1031 CORP. She has been instrumental in helping expand 1031 CORP. operations across the country and helps address the various business issues faced by qualified intermediary companies in both good and bad times. She is also well versed on FEA's ongoing efforts to preserve Section 1031 and the important role of the QI", stated Margo McDonnell, CRE, CES®, President of 1031 CORP.
For more information about the FEA, visit www.1031.org.


About 1031 CORP.
Serving as a nationwide qualified intermediary for 1031 tax-deferred exchanges since 1991, 1031 CORP. strives to provide a superior exchange experience for its customers and their advisors. It provides its customers with enhanced security of funds, knowledgeable exchange professionals and a commitment to keep the exchange process simple for their customers and advisors. For more information on 1031 CORP., please visit www.1031CORP.com.